Applications in water and sewage management
---
Control, monitoring and visualisation of SCADA systems measurement data for water and sewage networks
I. Water supply and distribution networks:
Facilities:
- water intakes (wells),
- water meter pits / vaults,
- hydraulic branching (for control).
- pressure boosting pumping stations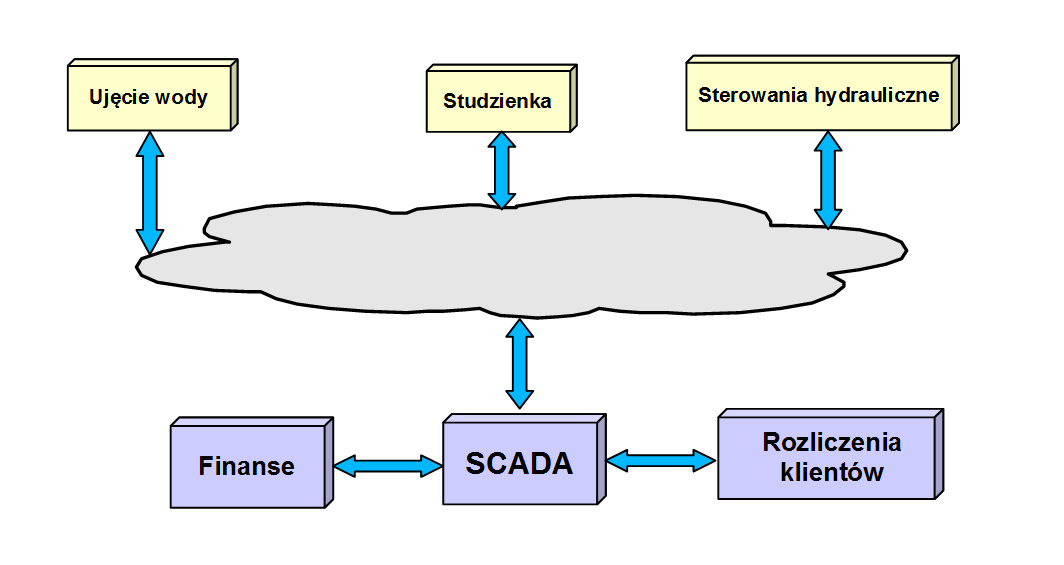 In water intakes we do automation of the entire water pump control system by means of frequency converters which stabilise pressure in network, we perform water flow measurements, pressure measurements as well as water quality measurements (turbidity) and we execute protection systems to secure the intake against unauthorised access. All these tasks we perform using programmable controllers and signal concentrators.
Since there isn't always a possibility of connecting water meter pits or vaults to electricity distribution line, they may be equipped with measurement systems powered by exchangeable batteries or batteries charged by photovoltaic systems and the data are transmitted by radio waves (GPRS or telemetry transmission).
In hydraulic branching we install executive devices (valves with drives) enabling their remote control.
To automate the operation of pressure boosting pumping stations we install pump inverters controlled by defined algorithm.
The data acquisition programme of boosting pumping station controller enables event-triggered and scheduled data transmission to base station (GPRS) and SMS notification.
Among the benefits there are energy savings, network servicing cost savings (including maintenance service), early detection of failures and threats (automated control and alarm condition signalling).
---
II. Sewer systems:
Facilities:
- sewage pumping stations,
- sewer wells,
- valves for FLOVAC vacuum sewerage systems
We perform comprehensive automation of pumping stations and operation monitoring including detection of unauthorized access.
In control systems for double pump pumping stations (installed inside special cabinets) we apply an advanced algorithm of pump operation with pump working time equalization (special case: alternate pump work), taking into consideration alarm levels, failures of pump readiness, longest period of continuous work with no break per individual work cycle, pump work time (for the first and the second pump), summary alarm conditions of telemetry modules. There are event-triggered and scheduled data transmission options from telemetry module to base station (GPRS): input condition, output condition, pump work times, pump currents, current levels, on/off levels, GSM signal levels. The system enables also SMS notification of user. Controller operational parameters with setting possibility and diagnostics screens (incl. GPRS) are displayed on a local message display console.
In control systems for four-pump pumping stations with main pumps set and flood pumps set we apply an advanced algorithm of pump control based on analogue signal (4-20mA) from hydrostatic probe and two binary signals coming from two float switches. The algorithm executes also monitoring of all signals and event-triggered and scheduled sending of data to SCADA in the base station.

In order to ensure control of faultless operation of vacuum sewerage systems we also execute remote monitoring systems and visualisation of pumping station operation as well as monitoring of the valves working in the FLOVAC systems, equipped with microprocessor modules with digital status transmitter, transmitting current status of the valve and results of its operation diagnostics. The diagnostics is based on measurement of opened valve time, closed valve time and the number of cycles per time unit. The transmitters are power supplied from the main conduit connecting all the sewer vaults with FLOVAC valves.
They may also be power supplied by batteries and then measurement data transmission is performed over radio. The control system of pumping station work and valve monitoring is placed inside a control cabinet equipped with panel computer with touchscreen and measurement data are visualised in SCADA system.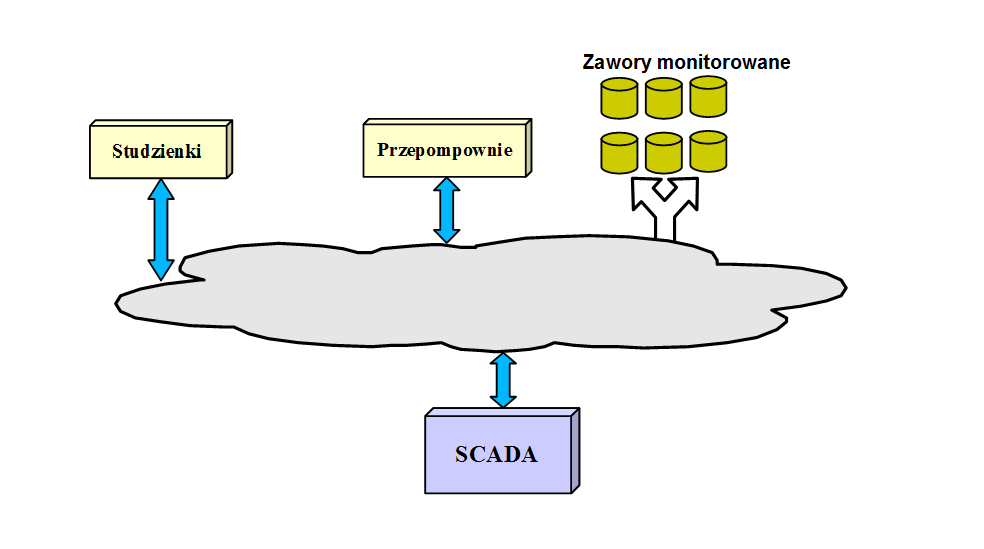 Intermediate pumping station automation bring benefits in form of reduction of energy consumption and operational costs and remote, current monitoring of FLOVAC system valves allows to locate failures precisely and quickly and highly facilitates service activities and reduces network maintenance costs.